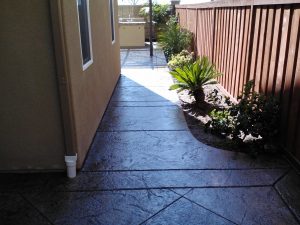 Concrete Sidewalk Contractor San Marcos
There are many design options that can be used to finish concrete sidewalks, during installation be sure to take note of the tips that will ensure there are no issues.  Choosing the best Concrete Sidewalk Contractor in San Marcos is a good start to getting your concrete project started.
Concrete sidewalks and walkways provide a defined path mapped around your property; they lead to the major areas around the home providing a beautiful surface for walking on, they also add to the aesthetic appeal in homes and buildings. There have been many successful methods that have been used to improve the features of these concrete walkways regarding decoration.
The most commonly used option is the plain gray surface which is installed on a majority of the concrete sidewalks we see around. You can choose from the wide range of decorative options to beautify the paths to make them look more appealing.
Another advantage of the concrete walkway is that they can be applied to any sidewalk and you have a variety of design options.  In the United States, the common design patterns include the stained designs, colored concrete patterns, molded and customized designs which can be seen in big shops and restaurants as well as commercial offices all around.
 10 Ideas for a Great Entryway and Walkway
Find out how to develop the best design to beautify the entrance of your home. The steps, walkways and other areas can be enhanced to look appealing, the beauty in these places will be acknowledged by your visitors. Concrete can be used in many ways to achieve the beautiful designs; this is achieved by using a variety of colors, texture, shapes, and patterns to make the result beautiful. The following ideas will help you achieve designs that will improve the entrance to your home.
Add a welcoming concrete walkway.
A welcoming walkway is the first entrance area that visitors see when they come over. It is always designed in an exceptional pattern that is appealing. The concrete and design option that can be used for your entrance are so many. You could choose to use the stamped or stenciled patterns, engraving, exposed aggregate finishes, colored concrete, stained concrete, etc. to improve the features of your walkway. These designs can be made to suit the features of walkways which could be winding or straight.
In homes which already feature a plain gray concrete walkway, or sidewalk, there is need to carry out a regular renovation to restore the colored patterns on the concrete overlay. These restorations are so beautiful, and they are the best option rather than redoing the plain gray concrete finishing.
Step it up.
The beauty of your concrete stairway can also be enhanced by designing the connecting concrete walkway. The designs can also include different colors and patterns. Concrete steps are usually poured at the site. Another option is the use of precast concrete stairs, they are also beautiful, and they come in various designs.
Choose a complementary design scheme.
Working with concrete brings about a flexibility that can be used to achieve different designs and mimic other types of finishing. You can create concrete walkways and entryways which have simple or exotic designs matching the color of your driveway, roof, and patios. You could also enhance the features of the architectural designs in your home while planning the designs for your concrete walkways. In homes with colonial designs, concrete sidewalks and steps are stamped with the regular bricks and cobblestones to create a grand entrance.  These decorative concrete designs will definitely beautify your home or place of business.
Pick an eye-catching pattern.
Your entryway should have a unique look, and it is a good thing this can easily be achieved. You have so many concrete stamp designs to choose from. The area could be designed with bricks, cobblestones, or you can use botanical and wildlife themes. In recent times, the stamping mats have been designed to look like stone pavers, and the results have been awesome. The outcome is even better when you apply the pattern from the sidewalk to the stairway and the landing.  The use of stenciled designs also creates a unique look. The stencils used to achieve the concrete design can be found in different colors and patterns which include bond bricks, slate, and tiles.
Exposed aggregate finish.
The exposed aggregate finish is an option to using the colored concrete. It can also be used to achieve wonderful designs for your finishing. There are different types, and they come in various sizes. The exposed aggregate finishing can also be used to complement the features of the plain concrete finishing. But this finishing does not require the use of stamping or staining to get the results. For entryways, you can use the exposed aggregate finishing to create non-skid and safe surfaces which will not wear when used in places that are frequently passed on foot.
Form fancy edges.
Regarding the concrete steps leading to your entryway, a simple way to improve the architectural appeal is to use a beautifully designed step edge instead of an edge with a sharp 90 degrees angle. Some manufacturers use polystyrene foams forms to create the concrete step edges; they can achieve a variety of architectural profiles which include the bull nose, French curve, Keystone and quarried stone. In many instances, these forms can be used to create the edges of the concrete pilaster or the wall caps.
Install concrete seat walls.
It is also possible to flank the sides of your entryway by using concrete seat walls. These seat walls are suitable for low retaining walls, and they provide a place to recline. The traditional seat wall measures about 8 to 12 inches wide, they are concrete masonry units which have been topped by a decorative cap of brick, stone, or bull nosed concrete casting. Averagely, the height is about 18 to 22 inches.
Add decorative concrete columns, balustrades, arches and more.
How would you like to have an entryway which looks spectacularly grand? To achieve this look, you can install a precast architectural concrete accent such as columns, balustrades, pilasters, wall caps, and archways. The architectural elements which have been created in concrete are characterized by a natural beauty cut from limestone, granite or marble which make it possible to achieve more versatility regarding color variety, finishing and the details of the finished work.
Install built-in lighting.
To achieve safety and an ambiance in the entryways, the area should be properly lit at night. This can be accomplished by installing dim light fixtures above the front doors. You should also provide path lighting along the concrete walkway which connects with the door and at the transitions between the concrete stairways and the surrounding areas. A good way to achieve this is to cast light fixtures which have been built into the surface of the concrete steps. Another option which is commonly used is the use of down lighting from recessed fixtures that have been built into the concrete seat walls, columns, and the pilasters.
Add precast concrete fountains, statuary, and planters.
A quick way to present the front entrance is by installing a precast concrete fountain; this could be a distinctive piece of the concrete sanctuary or a pair of decorative concrete planters or urns. Some manufacturers and suppliers can provide unique collections of concrete statuary and garden ornaments which can be used to portray your culture or architectural preference. The concrete fountains are highly coveted centerpieces which can grace the entry of courtyards because they are beautiful, peaceful and hypnotic movements complement these appealing looks.
Our highly skilled team of professionals are here to ensure that your concrete project gets done to your satisfaction and goes beyond your expectations. This makes our company the best Concrete Contractor in San Marcos.  Call us today for a free estimate. We can assist you with all of your concrete needs in City of San Marcos and East County San Marcos California!